Raises and lowers a six-ton boat in seconds!
Loaded boat max weight 1 500 - 2 200 kg
Compact boat lift that fits almost any fixed dock. The lift can be installed both with or without sea floor bottom piles. This boat lift can also be installed inside your boatshed! BM series boat lifts can be installed without heavy equipment, and only requires two-phase electric power. The boat lift is designed for nordic conditions. There are two BM series boat lifts, BM T1.5 and BM T2.2, and they both accommodate boats with a max width of 2.15 meters.
Compact boat lift with easy installation.
Base structure made from galvanized acid-resistant steel.
Painted in RAL 7016 color.
Two-phase electric power supply.
Can be installed without heavy equipment.
BM series boat lift prices starting 16 900 € incl. VAT 24%. Contact us and we'll see which one of the BM series boat lifts is your choice!
Loaded boat max weight 6 000 kg
Mixan BR series boat lift is the right choice for larger boats. A pair of lifts can lift a load of up to six tons (max weight per unit 3 000 kg), and the max width of the boat is 3.6 meters! The BR series can also be installed without the sea floor bottom piles, but in this case the dock structure should be very stable. The structure of the boat lift is very sturdy, and it requires three-phase power supply. All components are of highest quality, and the lift is made for nordic conditions, meaning you can store your boat year-round in the boat lift.
Very strong and stable boat lift.
Galvanized / acid resistant steel structure.
Spray painted glass fiber components are weather and UV resistant. The end result is a long-lasting finish.
Painted steel parts powdercoated in RAL 7016 color.
BR series boat lifts and their installation are always tailored to the location. Contact us when you need serious lifting power for your boat!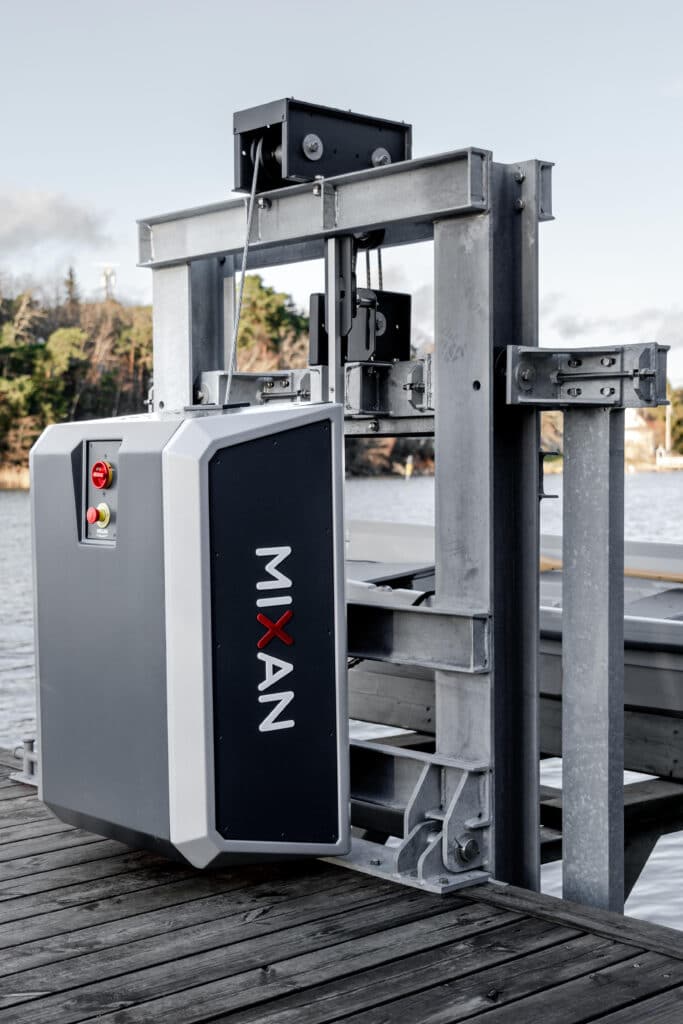 We also provide repair services and tailor made boat lifts for your dock and boat. We can install our boat lifts on nearly any dock. We also provide installation to special locations, e.g. boatsheds. Contact us for more information!